About St. Lucia
Our Island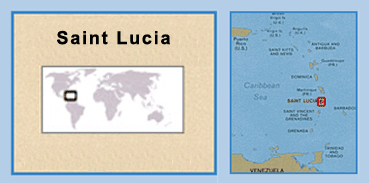 St. Lucia "the Helen of the West Indies" is located between 60° and 61° west longitude and 13° and 14° north latitude. It is 1,300 miles (2800 km) southeast of Florida and 100 miles north of Barbados. The nearest neighbours are Martinique to the north and St. Vincent which is just 24 miles (38,5 km) south.
By air: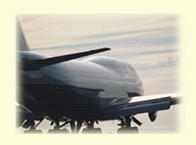 St. Lucia has two airports: Hewanorra International Airport located in Vieux Fort in the south of the island and George F.L. Charles Airport in Castries (the capital) near the main business and tourist area. International flights land at Hewanorra, while flights from within the Caribbean generally land at George F.L. Charles.
If you are coming from America several options are available: American Airlines flies daily from/to San Juan in Puerto Rico, with connections to its USA flight network. BWIA flies to St. Lucia weekly from both Miami and New York, while air Jamaica offers four direct weekly flights to and from New York. Air Canada flies to St. Lucia from Toronto.
If you are coming from Europe, British Airways, Virgin Atlantic and BWIA fly from London. From France, Air Liberté offers weekly flight to St. Lucia, or Air France to Martinique (which is our closer neighbour), Air Martinique assures the transfer between the two islands several times a day.
LIAT the regional air carrier, has flights between St. Lucia and Caracas and also has daily nonstop flights to George F.L. Charles Airport from Antigua, Barbados, Dominica, Martinique, St. Vincent and Trinidad, and connecting flights from the rest of LIAT's Caribbean network.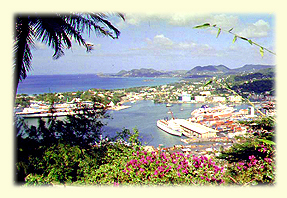 For visitors coming by private or chartered yacht, St. Lucia offers some outstanding anchorages.
Rodney Bay Marina, in the north of the island, is well known as a first class full service facility. The marina has 232 berths with individually metered water and electricity, showers, toilets, same day laundry, ice, sail repair, propane and gas refills, banks, telecommunication centre, supermarket, pharmacy and restaurants.
Castries Harbour provides two anchorage options where visitors can access a range of services and facilities including, repairs, shops, restaurants, and open market. The harbour of Castries can receive up to five cruise ships.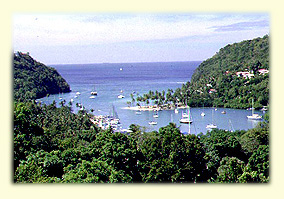 Marigot Harbour is another spectacularly beautiful anchorage with all facilities for yachts and with restaurants and shops nearby.
Soufriere is the most stunning anchorage of the island just at the bottom of our famous Pitons. You can also anchor your yacht at Anse Chastanet and Humming bird Beach Resort just north of Soufriere, or at the Jalousie Hilton Resort located to the south between the two Pitons.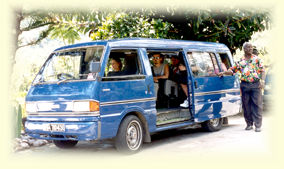 St. Lucia is 27 miles (44 km) in length and 14 miles (23 km) in width so it doesn't take long to get to most places on the island. There are 500 miles (800 km) of road connecting all towns and villages, but remember to drive on the left.
Taxis are plentiful at the airports, in Castries and in the main resort areas. There are car rental agencies at the airports and at Rodney Bay. Unless you have an international driving permit, you need to purchase a local license, which can be picked up from immigration at either airport. If you don't get a license on arrival, most car rental companies will either issue one or take you to a nearby police station to get one.
Most islanders use the cheap minivan bus service to get to town, school or work. Services are frequent on main roads during the day. If there is no bus stop nearby, you can wave buses down en route as long as there is space for the bus to pull over.
Hotels and villas:
St. Lucia offers a variety of different options for accommodation. Individual choices depend upon what sort of atmosphere and activity visitors desire. In St. Lucia the range of choices is particularly diverse, including plantation inns set in expansive tropical orchards and gardens, romantic villas perched atop seaside hills, cool beachside apartments and guest houses or relaxing, pampering health spas and luxury 5 star resorts.
Several prestigious hotels are found in St. Lucia: Sandals, Hilton, Hyatt, Royal St. Lucian, Club Med, Ladera Resort, Almond Morgan Bay, Windjammer, Bay Gardens, Coco Resorts, Le Sport...
In addition to these well recognised names, St. Lucia offers several lesser-known properties which range from three to four star status and are renowned for their uniqueness, quality of product and service: East Winds Inn, Ladera Resort...
Restaurants:
There is a wide variety of excellent cuisine to satisfy the palette, from the prevalent local recipes, to an array of international, traditional and exotic choices. Whatever your preference or mood, you will always find restaurants to satisfy and impress you. Dining out in St. Lucia is a real pleasure.
Back to top
St. Lucia offers more than sun, sand and sea. The island offers a rich mix of activities, adventure and events that will keep you on the go. Wherever you go don't miss the sunset!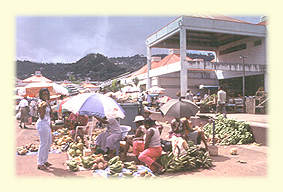 Castries, the island's commercial centre and capital, is a busy port city set on a large natural harbor. The liveliest part of the city is just southeast of the port, where the Castries market houses scores of produce and handicraft stalls. Founded by the French in the 18th century, the city was ravaged by fire three times between 1785 and 1812, and again in 1948. One area that survived the last fire was Derek Walcott Square, a quiet central square surrounded by a handful of 19th century wooden buildings with gingerbread trim balconies, an attractive Victorian-style library and the imposing Minor Basilica of the Immaculate Conception. Opposite the cathedral, on the eastern side of the square, is a lofty saman tree that's estimated to be 400 years old.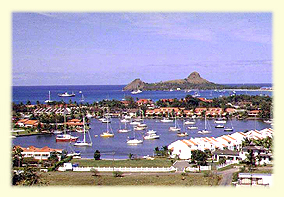 Rodney Bay is a large protected bay that encompasses the resort area of Reduit Beach and the small fishing village of Gros Islet. An artificial channel cuts between Reduit Beach and Gros Islet openning to a large lagoon that's the site of Rodney Bay Marina, the island largest yachting port. Gros Islet consists of simple wooden houses with rusting tin roofs, lots of rum shops and a shore full of painted wooden boats. If you hear a conch shell being blown, it is the signal that fishing boats have arrived with catch to sell. St. Joseph's church is a formidable structure at the northen edge of town, and there is a small market near the shore where you can often find fishermen. Gros Islet is also famous for its spirited Friday night "jump-up".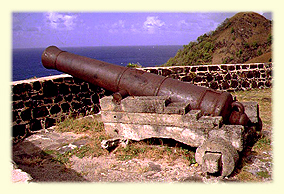 Pigeon Island has a spicy history dating back to the 1550s when St. Lucia's first French settler, Jambe de Bois (wooden leg) used it as a base for raiding passing Spanish ships. Two centuries later British admiral George Rodney fortified the island, using it to monitor the French fleet on Martinique. In the 1970's a sandy causeway was constructed between Gros Islet and Pigeon Island , turning the island into a peninsula, and in 1979 Pigeon Island was established as a national park. It is a fun place to explore, with walking paths winding around the scattered remains of Fort Rodney, whose partially intact stone buildings resemble a ghost town. The beautiful beach is so peaceful it will certainly entice you to the best of tropical life.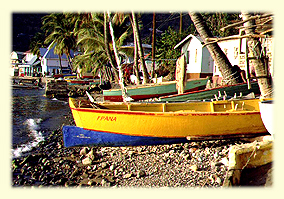 The bayside town of Soufiere was founded by the French in 1746 and named after nearby sulphur springs which are the world's only drive in volcano. The coastal Pitons provide a scenic backdrop to the south and the island's highest peaks rise above the rainforest just a few miles inland. Like other fishing communities along the coast, Soufriere has lots of old weathered buildings: some still adorned with delicate trim, others more ramshackle. There is an interesting stone Catholic Church in the town centre. On the northern side of the dock is the Soufriere Market, where you can buy baskets, straw hats and spices. Don't forget to go to the breathtaking Diamond falls just aside Soufriere, gardens are stunning.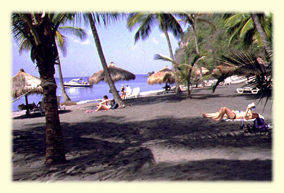 The island is surrounded by lots of beautiful beaches, some with black sand like Anse Chastanet, other you will access by a boat shuttle like Marigot Bay, other unique and unforgettable just between the two Pitons Jalousie, or on the Atlantic side where turtles use to come every year. The southwestern coast has plenty of secret coves and bays.
Natural reserves:
There are two nature sanctuaries of St. Lucia's eastern coast. The Maria Islands Nature Reserve, two islands a few miles east of Vieux Fort, is the only habitat of one of the world's rarest grass snakes and the Maria Island ground lizard. The Frigate Island Nature Reserve, midway along the eastern coast, is a summer nesting site for frigate birds, herons and some of St. Lucia's rare indigenous birds. Tours can be arranged through local tour agencies or the National Trust.
Despite its relatively small size St. Lucia offers a wide range of quality enjoyable shopping at several venues. There are two shopping malls Gablewoods and JQ Charles Rodney Bay Mall.
Local craft, pottery, wood carving, hand woven straw items may also be found at the Castries market, the malls and local art galleries.
Facilities: Point Seraphine and Place Carenage all offering duty free shopping, souvenir and gift shops and featuring exclusive international franchise such as Colombian Emeralds.
For the stamp collectors there is the Philatelic Bureau at the central post office in Castries.
Wherever you go you will always find our local products like hot sauces, spices, rum, Caribbean perfumes, flowers... all to remind you the feeling of St. Lucia.
Events: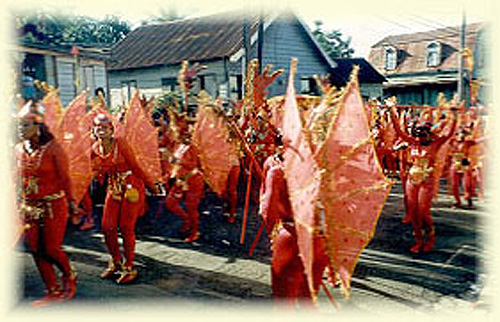 The St. Lucia events calendar is a long one. Each New Year is ushered in with the warmest party atmosphere and a two-day street fair. This leads quickly in to independence celebrations in February, followed by the world-renowned St. Lucia Jazz festival in May. It is considered the Caribbean's premier music festival and features some of the biggest and greatest names in the music industry. Carnival celebrations follow soon after in July and is one of the prettiest, most enjoyable, fascinating displays of costumes, entertainment and music found anywhere. The year winds down with Bill Fishing in October and the Atlantic Rally for Cruisers in December.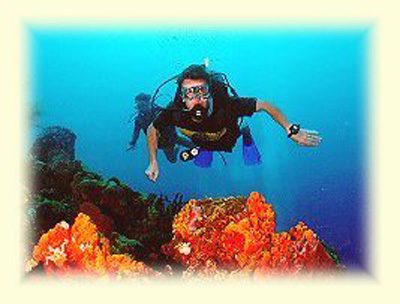 St. Lucia is the ideal place to enjoy a multitude of sports. Surrounded by warm, clean and blue sea, it is perfect for swimming, sailing, and fishing, whales/dolphins watching. The island's steep coastlines and lovely reefs offer excellent snorkeling and scuba diving. St. Lucia rugged mountain terrain continues beneath the sea as underwater mounts, caves and drop-offs. Most of the diving takes place on the western side of the island since the eastern side is less protected and has rougher water conditions. Anse Chastanet, just north of Soufriere, has been designated as a marine park and boats near shore reefs with a wide variety of corals, sponges and reef fish. Its accessibility makes it excellent for both diving and snorkeling. A popular dive spot further south is Key Hole Pinnacles, where coral-encrusted underwater mounts rise to within a few feet of the surface. Another interesting option is the artificial reef that has formed around the 165-foot (50 m) freighter, the Lesleen, which was sunk in 65 feet (20 m) of water at Anse Cochon. Other good snorkeling and diving spots include the area beneath Petit Piton and Gros Piton and Pigeon Island.
The rain forest preserves of St. Lucia's mountainous interior are one of the Caribbean's finest locales for hiking and bird watching.
Of course, the island also possesses excellent facilities for Golf (18 hole golf course with panoramic views of both the Atlantic and Caribbean), tennis, gym, squash and a host of other sports interests.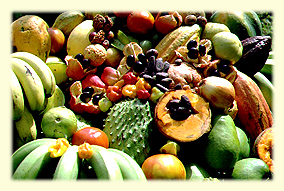 St. Lucia's economy is traditionally based on agriculture. However tourism has been fast developing and is now the most important economic pillar for the island.
Telecommunications: Domestic and international services are provided by Cable & Wireless ( West Indies) Ltd.
Banks: The Island has a mix of local regional and international banking and financial institutions. The international banks include, Royal Bank of Canada, Barclays Bank PLC, C.I.B.C., The Bank of Nova Scotia, Caribbean Banking Corp. Ltd. The two indegenous banks are the Bank of St. Lucia (formerly National Commercial Bank) and the First National Bank (formerly St. Lucia Cooperative Bank), the latter being established in 1895.
Economic Summary:
Industries: clothing, assembled electronics, beverages, corrugated cardboard boxes, tourism, coconut processing, lime processing
Exports: bananas, cocoa, clothing, vegetables, fruits, and coconut oil
Imports: foodstuffs, machinery and equipment, chemicals, fuels, manufactured goods
Major Trading Partners: U.K., U.S., Caribbean countries, Japan, Canada
Member: Commonwealth of Nations
Currency: Eastern Caribbean Dollar- EC$. EC$2.7 to US$1.0.
Government: Independent republic within the British Commonwealth.
Infrastructure:
Electricity is supplied at 220/240 volts, single phase and 416 volts three phase, at a frequency of 50 hertz. Rates are considered to be fairly low for the region.
Sea ports: the island has two major multi-functional sea ports, equipped with full facilities for berthing, loading and unloading and bulk cargo storage. One is in North of the Island port Castries, and the other one is the southern port at Vieux Fort.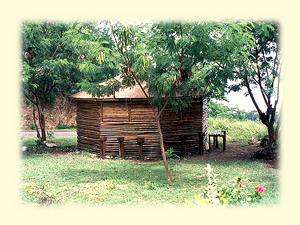 Archaeological finds on the island indicate that St Lucia was settled by Arawaks between 1000 and 500 BC. Around 800 AD migrating Caribs conquered the Arawaks and established permanent settlements on the island. These tribes left their mark on the island: they called it "Iouanalao" and "Hewanorra" meaning "these where the iguana is found".
St Lucia was outside the routes taken by Columbus on his four visits to the New World and was probably first sighted by Spanish explorers during the early 1500s. The first attempt at European colonization wasn't made until 1605, when a party of English settlers was quickly routed by unreceptive Caribs.
A second attempt by British colonists from St Kitts was made in 1638, but the settlement was abandoned within two years after most of the settlers were killed in attacks. After the British left, the French laid claim to the island and attempted to reach an agreement with the Caribs. In 1746, the French established the island's first town, Soufrière, and began developing plantations.
The British successfully invaded in 1778 and established naval bases at Gros Islet and Pigeon Island, which they used as staging grounds for attacks on the French islands to the north. St Lucia seesawed between the British and the French until 1814, when the Treaty of Paris finally ceded the island to the British, ending 150 years of conflict during which St Lucia had changed flags 14 times.
Culturally the British were slow in replacing French customs and it wasn't until 1842 that English nudged out French as St Lucia's official language. Other customs linger to this day: the majority of locals speak a French-based patois, attend Catholic churches and live in villages with French names. St Lucia gained internal autonomy in 1967 and full independence as a member of the British Commonwealth in 1979.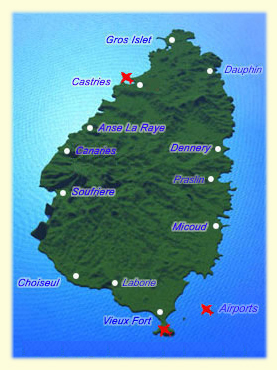 Area: 240 sq Miles (616 km carré)
St. Lucia is only 27 miles (43,2 km) long and 14 miles (22,4 km) wide. The Atlantic Ocean sets off its eastern shore, while the beaches of the west coast owe their beauty to the Caribbean Sea.
Capital city: Castries with a population of 50,000 people.
Population: 150,000
St. Lucia has some of the most overwhelmingly beautiful scenery to be found anywhere in the world. Amongst the natural beauty of its splendid forests and soaring peaks are ancient fortresses, gem-like fishing villages, and gracious town squares, places waiting like buried treasure to be discovered by newcomers.
In natural beauty, St. Lucia seems like an island plucked from the South Pacific and set down in the Caribbean. Its dramatic twin coastal peaks, the Pitons, soar 2,000 feet up from the sea, sheltering magnificent rain forests where wild orchids, giant ferns, and birds of paradise flourish. Brilliantly plumed tropical birds abound, including endangered species like the indigenous St. Lucia parrot. The rainforest is only broken by verdant fields and orchards of banana, coconut, mango, and papaya trees.
The climate is subtropical with temperatures from the mid-sixties to the mid-eighties. The hottest time of the year is from June to August. The summer is warm and wet, and the winter is cool and dry. The rain season is from June to October but it is no means a constant downpour.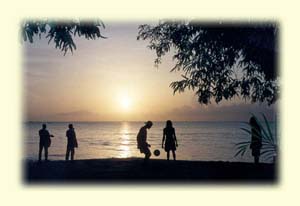 People: African (85%), mixed descent (10%), European and East Indian (5%)
Language: English & French-based patois
Religion: Roman Catholic (85%)
St Lucia has a mix of English, French, African and Caribbean cultural influences. For instance, if you walk into the Catholic cathedral in the capital, Castries, you'll find a building of French design, an interior richly painted in bright African-inspired colors, portraits of a black Madonna and child, and church services delivered in English.

Island Gems:
Derek Walcott, the renowned Caribbean poet and playwright and winner of the 1992 Nobel Prize for Literature, is a native of St Lucia. Walcott, who teaches overseas, still maintains his connections with the island and is spearheading a movement to renovate the buildings on Rat Island, a former quarantine station off Choc Beach. There are plans to turn the buildings into a retreat for writers and artists.

Another Nobel laureate from the island is former Princeton University professor Sir Arthur Lewis (1915-91), who was born in Castries but educated in England. He developed what became known as the 'Lewis Model,' which explores the transition developing countries experience as they move from an agrarian to an industrial economy. Lewis received the Nobel Prize for Economics in 1979.
[Back]